Author(s):
Syed Sauban Ghani, Aman Deo

Field: Food chemistry
Type: Research paper
Issue: 2020 Volume 15, no.1
Pages: 51-57

Abstract (PDF)
Graphical Abstract:
The concentrations of the accumulated heavy metals such as cadmium, lead, copper, mercury, zinc, and chromium have been determined in the muscles, gills and liver of the fish species of
Clupea pallasii
,
Macolor niger
and
Pristipomoides filamentosus
collected from the waters of the South Pacific Ocean around Lautoka in Fiji. Overall, the contents of heavy metals in all the samples were below the permissible limits, except for chromium that is slightly higher than the limit set by Food and Agriculture Organization of the United Nations and World Health Organization regulations, respectively. As anticipated, the muscles are still near the lowest concentration of all metal concentration. Significant variations in heavy metal concentrations were found between different tissues within each species of fish.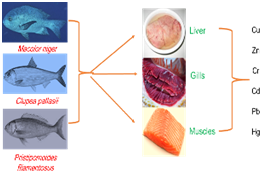 Downloads:
122