Author(s):
Benalia Yabrir

Field: Natural product chemistry and synthesis
Type: Review
Issue: 2018 Volume 13, no.2
Pages: 8-23

Graphical Abstract:
This paper reviews information on essential oil of
Marrubium
species (except
M. vulgare
) described until now regarding extraction, chemical composition and biological activities.
Marrubium
essential oils, although quantitatively poor, are rich in chemical composition. This composition consists especially of sesquiterpenoids and a little amount of monoterpenes. It varies from one species to another, sometimes within same species.
Marrubium
essential oils exhibit antioxidant and antimicrobial activities. However, because the lack of literature concerning essential oil of these species, further studies are necessary, particularly regarding their activities.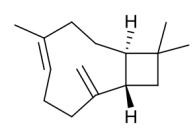 Downloads:
166