Author(s):
Roman Rusnac, Maria Botnaru, Nicanor Barba, Peter Petrenko, Yurii Chumakov, Aurelian Gulea

Field: Organic chemistry
Type: Research paper
Issue: 2020 Volume 15, no.2
Pages: 88-98

Graphical Abstract:
The research is devoted to the study of unexpected products that formed as a result of the condensation reaction between 2-acetylpyridine and 2-formylpyridine under the Claisen-Schmidt reaction conditions. As a result, a sequence of reactions leading to the following compounds has been proposed: 1,3-bis (pyridin-2-yl) prop-2-en-1-one (
3
); 1,3,5-tri (pyridin-2-yl) pentane-1,5-dione (
4
); (2,4-dihydroxy-2,4,6-tri(pyridin-2-yl)cyclohexyl)(pyridin-2-yl)methanone (
5
) and (4-hydroxy-2,4,6-tri(pyridin-2-yl)cyclohexane-1,3-diyl)bis(pyridin-2-ylmethanone) (
6
) as well as 2-formylpyridine (
1
) and 2-acetylpyridine (
2
). The plausible mechanism of these chemical transformations has been proposed. All the obtained compounds demonstrate moderate antimicrobial, antifungal and antioxidant activity.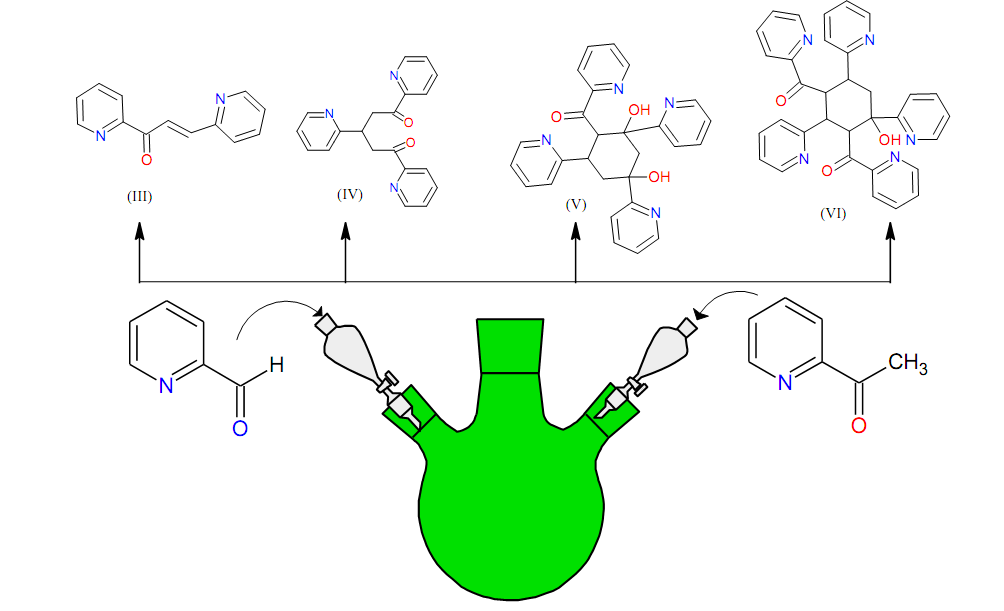 Downloads:
134