Author(s):
Natalia Terenti, Marilena Ferbinteanu, Ana Lazarescu

Field: Inorganic and coordination chemistry
Type: Research paper
Issue: 2018 Volume 13, no.1
Pages: 24-29

DOI:
http://dx.doi.org/10.19261/cjm.2017.371
Abstract (PDF)
Supplementary Material (PDF)
Graphical Abstract:
A new Co(III) complex [Co
III
(2,3-pdcH)3(H
2
O)
3
] (2,3-pdcH – monoanion of 2,3-pyridinedicarboxylic acid) has been synthesized from Co(II) salt at room temperature by using nonhydrothermal method and (NH
4
)
2
S
2
O
8
as oxidant. The influence of the type of Co(II) salt used to the synthesis of the final product was investigated. The complex was characterized by elemental analyses, IR and UV-VIS spectroscopy, single crystal X-Ray diffraction and thermogravimetric analyses. The complex crystallizes in the monoclinic space group P2
1
/c. The crystal structure reveals a homoleptic complex with a distorted octahedral geometry, where the ligand acts as monodeprotonated N, O-chelating anion.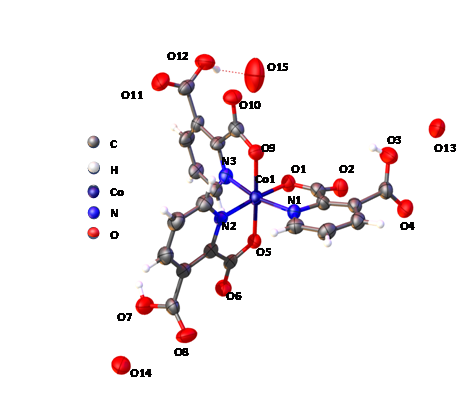 Downloads:
104