Author(s):
V. Lozan

Field: Inorganic and coordination chemistry
Type: Research paper
Issue: 2013 Volume 8, no.1
Pages: 58-77


DOI:
dx.doi.org/10.19261/cjm.2013.08(1).08


Graphical Abstract:
A series of novel tri-, tetra- and pentanuclear complexes composed of dinuclear LM units (M=Co, Ni, Zn; L=24-membered macrocyclic hexaaza-dithiophenolate ligand) and ferrocenecarboxylate ([CpFeC
5
H
4
CO
2
]ˉ), 1,1'-ferrocenedicarboxy-late ([Fe(C
5
H
4
-CO
2
)
2
]
2ˉ
), acetylene-dicarboxylate, terephthalate, isophthalate, and naphthalene diimide dicarboxylate groups is reported. The complexes, have been synthesized and characterised by UV/Vis-, IR-, NMR-spectroscopy, Cyclovoltammetry, and X-ray crystallography. Each dicarboxylate dianion acts as a quadridentate bridging ligand linking two bioctahedral LM
2
units via µ
1,3
-bridging carboxylate functions to generate discrete dications with a central LM
2
(O
2
C-R-CO
2
)M
2
L core. The magnetic properties of these compounds reveal the presence of weak ferromagnetic exchange interactions between the Ni
II
ions of the dinuclear subunits and negligible coupling across the dicarboxylate bridges.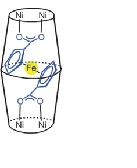 Downloads:
33