FACILE AND EFFICIENT SYNTHESIS OF XANTHENE DERIVATIVES MEDIATED BY LANTHANUM(III) NITRATE HEXAHYDRATE UNDER SOLVENT FREE CONDITIONS
Author(s):
Kabeer Ahmed Shaikh and Uddhav Nivrutti Chaudhar

Field: Organic chemistry
Type: Research paper
Issue: 2020 Volume 15, no.2
Pages: 99-104

Keywords:
lanthanum(III) nitrate, xanthene derivative, dimedone, β-naphthol, solvent free condition.
Full Text (PDF):
Download
Abstract (PDF)
Graphical Abstract:
The present paper shows that lanthanum(III) nitrate hexahydrate can be used as mild and environment friendly homogeneous catalyst for an efficient one-pot multi-component synthesis of biologically active 1,8-dioxo-octahydroxanthene and 14H-dibenzo[a,j]xanthene derivatives. The solvent free condensation reaction of aromatic aldehydes and dimedone or β-naphthol was carried out at 70-80ºC during 10-30 min. The advantages of this eco-friendly synthesis route are numerous, and include the use of an inexpensive catalyst, high to excellent yield, short reaction time and high catalytic activity that can make this method an interesting alternative to multi-step approaches.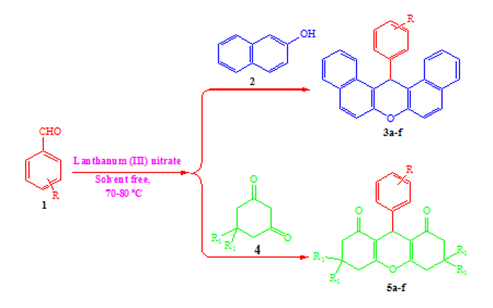 Downloads:
102