Author(s):
Viorina Gorinchoy, Vera Zubareva, Elena Melnic, Victor Kravtsov

Field: Inorganic and coordination chemistry
Type: Research paper
Issue: 2018 Volume 13, no.1
Pages: 46-53

Abstract (PDF)
Graphical Abstract:
The reaction between iron and nickel salts with ammonium salicylate results in the formation of a new trinuclear heterometallic complex
[hexa-µ2-salicylato-µ3-oxo-(methanol)(dimethylformamide) aquadiiron(III) nickel(II)] methanol dimethylformamide. The synthesized [Fe2NiO(SalH)6(CH3OH)(DMF)(H2O)]•DMF•CH3OH complex crystallizes in the monoclinic space group C2/c. The IR and Mössbauer spectra and thermal properties were studied.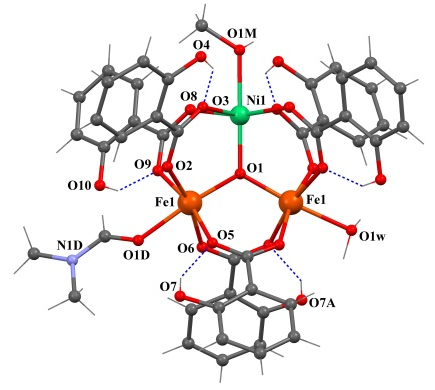 Downloads:
166