Author(s):
Lyubov Patrylak, Stepan Zubenko, Serhyi Konovalov, Anzhela Yakovenko, Volodymyr Povazhnyi, Oleksandra Pertko, Yulia Voloshyna, Oleksandr Melnychuk, Mykhailo Filonenko

Field: Natural product chemistry and synthesis
Type: Research paper
Issue: 2022 Volume 17, no.2
Pages: 84-93

Abstract (PDF)
Graphical Abstract:
The aim of the work was to study the isomerization of limonene on zeolite-containing biporous acid catalysts based on kaolin (from Ukraine). Results of this study show that at 160°C, the maximum isomer yield was 60–65% with an 80–90% conversion. The studied samples do not have a significant accumulation of carbonaceous deposits because limonene has high solubility, which helps to remove intermediate products of transformation from the surface of the samples.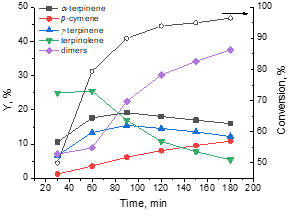 Downloads:
35