Author(s):
Brahim Ben Aicha, Rachid Rouabhi, Salim Gasmi, Chawki Bensouici, Hichem Mohammedi, Imad Mennai

Field: Natural product chemistry and synthesis
Type: Research paper
Issue: 2020 Volume 15, no.2
Pages: 78-87

Graphical Abstract:
The present work focuses on evaluation of the chemical composition and antioxidant activity of the hydro-methanolic extract of
Melissa officinalis
from Algeria. The liquid chromatography-mass spectrometry analysis allowed the identification of six compounds: caffeic acid, caftaric acid, hydroxyjasmonic acid glucoside, caftaric acid glucoside, rosmarinic acid and sagerinic acid. The in-vitro antioxidant activity of the hydro-methanolic extract was evaluated by using four different methods including: radical scavenging assay (DPPH), scavenging activity (ABTS), cupric reducing antioxidant capacity, and ferric reducing power assay. The extract exhibited a relatively strong antioxidant activity compared to the synthetic antioxidants. The highest radical scavenging activity was registered using DPPH and ABTS methods, IC
50
= 20.53±2.64 μg/mL and 22.50±0.67 μg/mL, respectively. These results suggest that
Melissa officinalis
L. could be considered a potential source of natural antioxidants with potential interest in the agrochemical and pharmaceutical industries.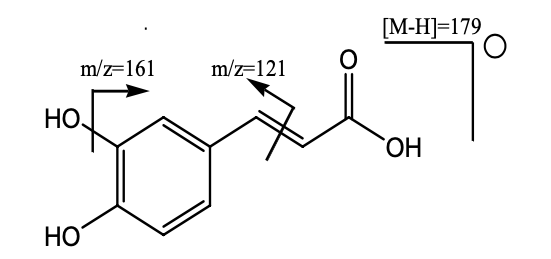 Downloads:
228