MAYONNAISES FROM FRESH OR FROZEN EGG YOLK WITH RAPESEED AND SESAME OILS - THE INFLUENCE OF EGG YOLK FREEZING AND STORAGE TIME AND OILS RATIO
Author(s):
Andra Tamas, Sabina Nitu, Simona Popa, Mirabela Padure

Field: Food chemistry
Type: Research paper
Pages: 9

Keywords:
egg yolk, mayonnaise, rheological behavior, viscosity, CIELAB.
Full Text (PDF):
Download
Graphical Abstract:
It was studied the rheological behavior of mayonnaise prepared from fresh/frozen yolks, whit oily phase made up of mixtures of oils, taking into account the freezing time of the yolk, the ratio between the oils, as well as the storage time. It was found that the mayonnaises prepared from frozen egg yolks and those with an oily phase in which sesame oil is predominant, have a higher consistency. The oxidation stability was evaluated by determining the acid values, which increase slightly with the freezing time of the egg yolk and with the amount of sesame oil in the oily phase. Also, were carried out studies in CIELAB color space.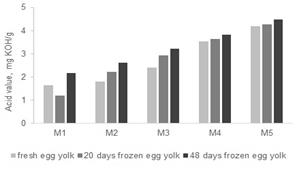 Downloads:
10