Author(s):
Aparna Das, Ram Naresh Yadav, Bimal Krishna Banik

Field: Organic chemistry
Type: Short communication
Issue: 2022 Volume 17, no.1
Pages: 62-66

Abstract (PDF)
Graphical Abstract:
In this work, the stereospecific synthesis of optically active cis β-lactams under diverse microwave-induced conditions using diverse solvents was reported. The effects of low tan
δ
values of the solvents are found to be more crucial than solvents with high dipole moments and dielectric constants. The results indicated that for the synthesis of
β
-lactams solvents with low tan
δ
and high dipole moment and high dielectric constant are necessary. Best of the knowledge this is the first report that examined the importance of tanδ values of the solvents in
β
-lactams synthesis.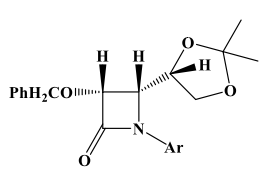 Downloads:
91