Author(s):
Viacheslav Shvydkiy, Sergei Dolgov, Alexander Dubovik, Mikhail Kozlov, Alisa Povkh, Lyudmila Shishkina, Gheorghe Duca

Field: Ecological chemistry
Type: Research paper
Issue: 2022 Volume 17, no.2
Pages: 35-42

Abstract (PDF)
Graphical Abstract:
This paper presents a study of the hydrochemical composition and physicochemical properties of natural water samples from various sources in the Voronezh and Moscow regions. Two model systems are proposed for assessing the state of the aquatic environment: UV spectroscopy with spectrum decomposition by the Gauss method and spontaneous aggregation of lecithin in a polar medium. Based on the performed investigation, it was determined that the size of lecithin aggregates decreases, and the value of their zeta potential increases with an increase in the content of hydrophobic compounds in natural water.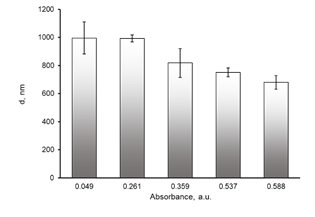 Downloads:
25