Author(s):
Hajer Hrichi, Nadia Ali Ahmed Elkanzi, Rania Badawy Bakr

Field: Organic chemistry
Type: Research paper
Issue: 2020 Volume 15, no.1
Pages: 86-94

Graphical Abstract:
A series of novel isolated
β
-lactams
3a-c
and thiazolidinone derivatives
4a-c
were successfully synthesized from reactions of new Schiff's bases
2a-c
with chloroacetyl chloride and thioglycolic acid. The antimicrobial activity of the obtained compounds was assessed
in vitro
against gram-positive
Staphylococcus aureus
and gram-negative
Escherichia coli
bacteria and
Aspergillus flavus
and
Candida albicans
fungi. Furthermore, a molecular docking study was carried out and the results indicated that compounds
3b
and
4b
displayed comparable binding affinity scores as that of glutamate. These two compounds are promising candidates as antibacterial and antifungal agents that would deserve further investigations.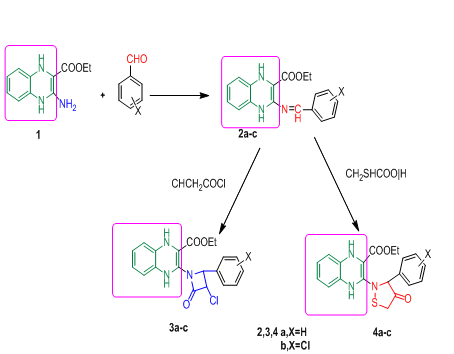 Downloads:
172