Author(s):
Silvadas Jesna Das, Mohan Sidharth, Chandroth Kalyad Simi

Field: Organic chemistry
Type: Research paper
Issue: 2022 Volume 17, no.1
Pages: 56-61

Abstract (PDF)
Graphical Abstract:
A facile, one-pot, and solvent-free synthesis was developed to obtain a thermally stable chitosan biopolymer. The bifunctional isocyanate by interaction with chitosan formed urea and urethane bonds between chitosan chains. Subsequently, the designed chemistry facilitated the formation of carbodiimide bonds between chitosan chains via dehydration of the urea bond. The modified chitosan was proved to be superior in thermal properties and could be used as a thermally stable bio-filler. This synthetic methodology is a facile route to achieve improved thermal stability in biopolymers.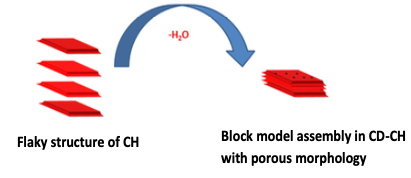 Downloads:
70