Author(s):
Margarita Skіba, Alexander Pivovarov, Anna Makarova, Victoria Vorobyova

Field: Ecological chemistry
Type: Research paper
Issue: 2018 Volume 13, no.1
Pages: 7-14

Abstract (PDF)
Graphical Abstract:
The contact non-equilibrium low-temperature plasma technique is used to synthesize silver nanoparticles (AgNPs) employing trisodium citrate as capping agent. The AgNPs were characterized using UV-Vis spectroscopy, scanning electron microscopy, X-ray diffraction and zeta potential analysis. Additionally, the antibacterial properties of the synthesized AgNPs were assessed.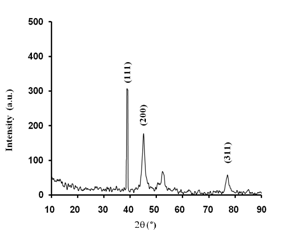 Downloads:
131