SIMULTANEOUS QUANTITATIVE ESTIMATION OF LISINOPRIL AND HYDROCHLOROTHIAZIDE RESIDUES USING HPLC FOR CLEANING VALIDATION
Author(s):
Imeda Rubashvili, Natela Karukhnishvili, Khatuna Makharadze

Field: Analytical chemistry
Type: Research paper
Issue: 2020 Volume 15, no.1
Pages: 8-21

Keywords:
lisinopril, hydrochlorthiazide, swab sampling, rinse sampling, HPLC, validation.
Full Text (PDF):
Download
Abstract (PDF)
Graphical Abstract:
A new, rapid and selective, HPLC method for simultaneous quantitative estimation of lisinopril and hydrochlorothiazide residues and sampling procedures from pharmaceutical manufacturing equipment surfaces were developed and validated. The sampling procedures have a good recovery (>80%). The limit of quantitation of the HPLC method - 0.155 µg/mL and 0.025 µg/mL for lisinopril and hydrochlorothiazide, respectively.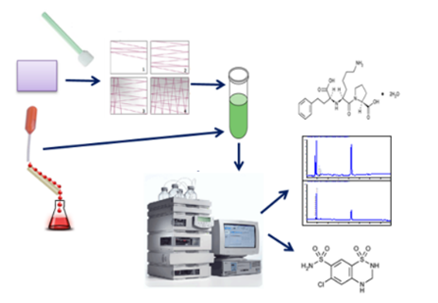 Downloads:
144