Author(s):
Mikhail Gorbachev, Natalia Gorinchoy, Iolanta Balan

Field: Physical chemistry and chemical physics
Type: Research paper
Issue: 2022 Volume 17, no.1
Pages: 24-30

Abstract (PDF)
Graphical Abstract:
The detailed mechanism of the interaction of the radical cation ABTS
•+
with a number of food acids (gallic, ferulic, caffeic, vanillic, cinnamic, syringic,
p
-coumaric) is revealed by means of the DFT calculations. It is shown that the interaction between the neutral molecules of the studied food acids and ABTS
•+
does not lead to any charge transfer from these molecules onto ABTS
•+
. The almost complete conversion of the ABTS radical cation into its diamagnetic derivative occurs due to the interaction of one of the sulphonic groups of ABTS
•+
with the acid anions through the formation of the corresponding intermolecular hydrogen bond.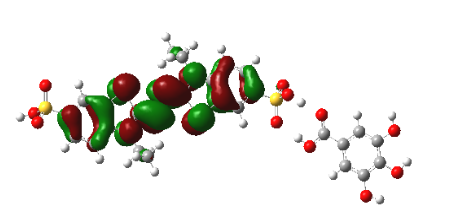 Downloads:
78