Author(s):
Sergiy Smola, Natalya Rusakova, Elena Martsinko, Inna Seifullina, Yuriy Korovin

Field: Inorganic and coordination chemistry
Type: Research paper
Issue: 2007 Volume 2, no.1
Pages: 83-87


DOI:
dx.doi.org/10.19261/cjm.2007.02(1).10


Graphical Abstract:
Four new heteronuclear lanthanide complexes with general formula [Ge(OH)(μ-HDTPA)LnGe(OH) (μ-DTPA)] (Ln = Sm – Dy) were synthesized and subsequently characterized by different physico- chemical methods. The structures of new compounds have been proposed. In considered complexes the 4f-luminescence of three-charged ions of samarium, europium, terbium and dysprosium is realized at UV-excitation. It is noteworthy that it is the first observation of 4f-luminescence in water solutions of heteronuclear f-p-complexes. The comparison of luminescent characteristics of hetero- and homonuclear landthanide complexes is described and discussed as well.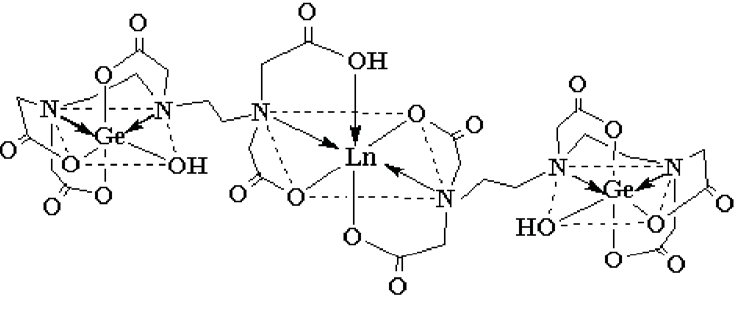 Downloads:
14