Author(s):
Gh. Duca, T. Lupaşcu, P. Vlad, V. Kulciţki, R. Nastas

Field: Ecological chemistry
Type: Research paper
Issue: 2006 Volume 1, no.1
Pages: 60-64


DOI:
dx.doi.org/10.19261/cjm.2006.01(1).01


Graphical Abstract:
The results of investigation of oenotannins content in the seeds of different grape varieties are presented in the paper. It was demonstrated that the oenotannins content depends on the grape variety as well as on the geographycal zone of grape cultivation. A new procedure for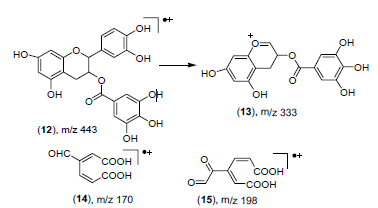 water sollubilization of oenotannins by depolimerization has been elaborated. The mechanism of the oenotannins depolimerization has been reveiled by mass-spectrometric studies. It has been established, that the depolimerization process brings about formation of carboxilic acids and organic peroxides. The presence of the carboxilic and peroxidic groups was detremined on the basis of
IR spectral analysis. It was demonstrated that the antioxidant properties of modified tannins are higher then those of initial unmodified ones.
Downloads:
385