Author(s):
Zainab Abdul-Zahra and Rashed Rasheed

Field: Ecological chemistry
Type: Research paper
Issue: 2023 Volume 18, no.1
Pages: 28-37

https://doi.org/10.19261/cjm.2023.1027
Abstract (PDF)
Graphical Abstract:
This work is dedicated to the synthesis of ZnO and CeO
2
nanopraticles with possible application for nitrite ions removal. The obtained nnaoparticles were characterized by X-ray diffraction, scanning electron microscopy, atomic force microscopy, Fourier transform infrared spectroscopy and UV-visible spectroscopy. Further, the produced nanoparticles were used to adsorb NO
2-
ions from aqueous solutions. The results showed that the nanoparticles which were heated at 90°C (hydroxide forms) presented a higher activity for nitrite ions removal than those that were heated at 400°C (oxide forms). This may be related to nitrite ions preferential adsorption to hydroxide forms rather than to oxide forms; in both cases (90°C and 400°C), zinc oxide nanoparticles presented higher nitrite removal activity.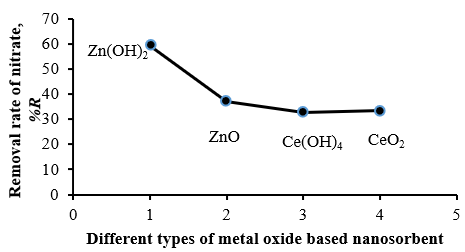 Downloads:
37