Author(s):
Elena Martsinko, Inna Seifullina, Elena Chebanenko, Olha Pirozhok, Viktoriya Dyakonenko, Svitlana Shishkina

Field: Inorganic and coordination chemistry
Type: Research paper
Issue: 2018 Volume 13, no.2
Pages: 56-62

Graphical Abstract:
The new complexes [Ni(phen)
3
][Ge(HCit)
2
]•2H
2
O (
1
), [Ni(phen)
3
][Sn(HCit)
2
]•3H
2
O (
2
) (where phen is 1,10-phenanthroline, H
4
Cit is citric acid) were obtained. The identity, composition, and thermal stability of the complexes were established by elemental analysis, thermogravimetry, and IR spectroscopy. According to the X-ray diffraction data, the bis(citrate)germanate / bis(citrate)stannate [Ge/Sn(HCit)
2
]
2-
carries out the role of the dianion while two halves of the nickel complexes with phenanthroline [Ni(Phen)
3
]
2+
are cations.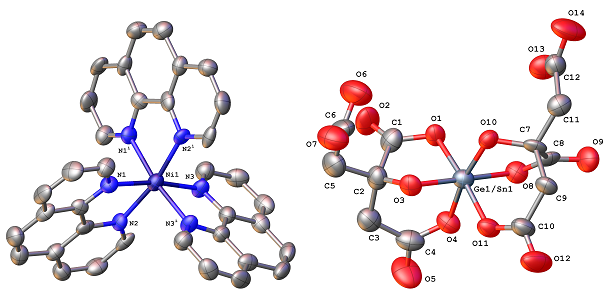 Downloads:
139