SYNTHESIS AND CRYSTAL STRUCTURES OF LUMINESCENT MONONUCLEAR Ni(II) AND Cd(II) COMPLEXES WITH 1,10-PHENANTHROLINE
Author(s):
Ecaterina Tocana, Anatolii Siminel, Lilia Croitor

Field: Supramolecular chemistry
Type: Research paper
Issue: 2017 Volume 12, no.2
Pages: 102-108

Keywords:
X-ray, 1,10-phenanthroline, supramolecular system, π–π stacking interaction, luminescence.
Full Text (PDF):
Download
Graphical Abstract:
New supramolecular systems of Ni(II) and Cd(II) with 1,10-phenanthroline constructed by non-covalent interactions have been synthesized and characterized by single-crystal X-ray diffractometry. The smaller nickel(II) ion forms a cis complex with outer-sphere perchlorates, while the cadmium(II) ion forms a trans complex involving inner-sphere perchlorates. Both compoundsrevealintraligand-basedluminescentproperties.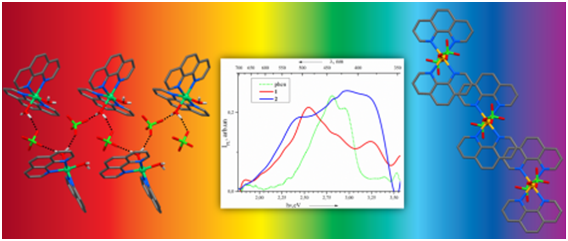 Downloads:
95