Author(s):
Victor Ciornea, Aurelian Gulea

Field: Inorganic and coordination chemistry
Type: Research paper
Issue: 2006 Volume 1, no.1
Pages: 84-87


DOI:
dx.doi.org/10.19261/cjm.2006.01(1).05


Graphical Abstract:
Heterometallic complexes of chromium (III) with some 3d metals have been synthesized based on nitrilotriacetic acid (H
3
nta), like M(bpy)
2
Cr
2
(OH)
2
(nta)
2
·nH
2
O, where M = Mn
2+
, Co
2+
, Ni
2+
and Zn
2+
; bpy = α,α′- bipyridine; n = 8 or 9. Their chemical composition has been determined from the results of the elemental analysis and thermogravimetric study. The coordination modes of the nta3 ̄ ligand and the type of chemical bonds have been proposed basing on IR spectra.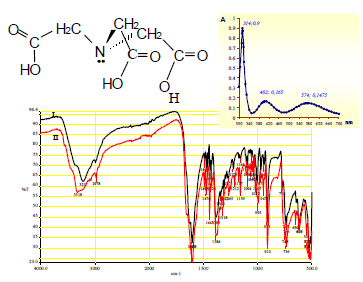 Downloads:
23