SYNTHESIS OF SBA-15 TYPE ORGANOSILICA SORBENTS USING SODIUM METASILICATE AND PHOSPHONIC ACID RESIDUES
Author(s):
Oksana Dudarko *, Yuriy Zub

Field: Physical chemistry and chemical physics
Type: Research paper
Issue: 2017 Volume 12, no.2
Pages: 79-86

Keywords:
SBA-15, phosphonic group, organosilica, characterization.
Full Text (PDF):
Download
Abstract (PDF)
Graphical Abstract:
The direct template method was used for the synthesis of mesoporous organosilica sorbents of SBA-15 type with phosphonic acid groups using sodium metasilicate (SS) as a source of silica. The presence of functional groups in the synthesized samples was confirmed by IR spectroscopy and elemental analysis. This approach allowed producing relatively cheap materials with ordered structure, developed specific surface (550-700 m2/g) and high sorption volume (0.74-0.81 cm3/g). The optimal sodium metasilicate (SS):diphosphoethyltriethoxysilane (DPTS) ratio for the synthesis of SBA-15 type organosilicas with phosphonic acid residues was found to be 10:2.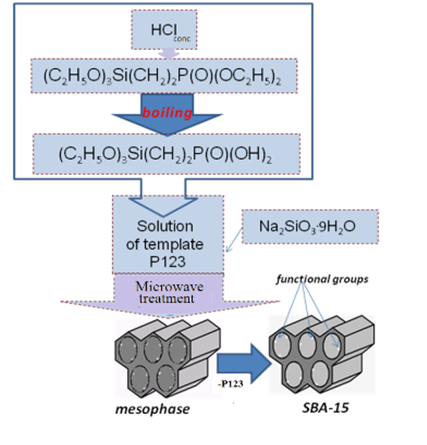 Downloads:
72