Author(s):
Olesea Cuzan

Field: Inorganic and coordination chemistry
Type: Research paper
Issue: 2017 Volume 12, no.1
Pages: 74-80

palladium, coordination compounds, phosphonate ligands, X-ray characterization.

DOI:
dx.doi.org/10.19261/cjm.2016.370
Abstract (PDF)
Graphical Abstract:
The novel N-(methylene-2-pyridine)-N,N-bis(diethoxyphosphorylmethyl)amine ligand (L) was obtained through a double Kabachnik-Fields reaction, starting from 2-aminomethyl pyridine (2-picolylamine). Based on the L ligand, a new palladium(II) coordination compound [Pd(L)
2
Cl
2
] has been synthetized and comprehensively characterized by spectroscopic methods (
1
H NMR, UV-Vis), ESI mass spectrometry and X-ray crystallography.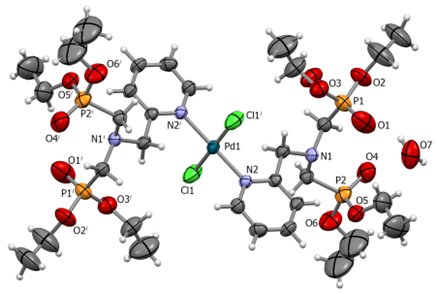 Downloads:
110