Author(s):
Iurie Ungureanu, Gheorghe Duca, Ionel Humelnicu, 
Gelu Bourceanu

Field: Physical chemistry and chemical physics
Type: Research paper
Issue: 2018 Volume 13, no.1
Pages: 103-110

Graphical Abstract:
This contribution presents investigations into possible effects of Ce
3+
and Mn
2+
on the reduction of UV-spectral signal for I
3
-
observed
e.g.
in the Dushman reaction. The potential of the metal ions to form complexes with iodine-containing species was analysed. It was shown that no complex ions are formed between Ce
3+
and Mn
2+
metals ions with IO
3
-
, I
-
, I
2
species. Only the formation of a very weak CeI
3
2+
complex ion was found to occur. An effect of a complex formation on the studied systems could be excluded.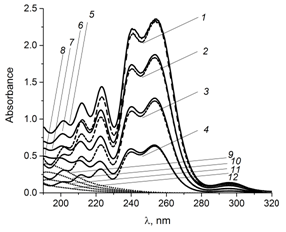 Downloads:
90