Author(s):
Olga Kazakova, Roman Ivannikov, Iryna Laguta, Oksana Stavinskaya, Viktor Anishchenko, Olga Severinovska, Ludmila Buyun

Field: Physical chemistry and chemical physics
Type: Research paper
Issue: 2020 Volume 15, no.1
Pages: 95-102

Graphical Abstract:
The most common phenolic components of sixteen orchid extracts were identified using high performance liquid chromatography and laser desorption/ionization mass spectrometry. The interaction between these compounds and silica silanol groups was studied using quantum chemical calculations. Results show that the strength of the interaction of phenols with silica increased in the following order: ferullic, feruloylquinic and fertaric acids <kaempferol, apingenin <<сhlorogenic and caffeic acids, rhamnetin, quercetin, luteolin, epicatechin gallate. The common feature of compounds characterized by the strongest interaction with silanol groups is the presence of phenol ring with two neighbouring hydroxyl groups.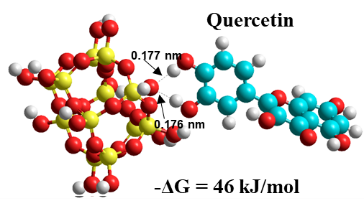 Downloads:
150